Discover the Top Angel Investors to Fuel Your Startup
Angel investors are individuals who financially back businesses in the early stages of development. They provide capital to start-up companies with high growth potential in return for an ownership stake or convertible debt. This type of investment is becoming increasingly popular, as it provides a great opportunity for entrepreneurs looking to build their business without relying on venture capitalists or banks for funding. An example of angel investing would be Silicon Valley's Angel List, which has become a go-to platform for individual or small-group accredited investors to meet and fund startups. With their injection of capital and sound advice, angel investors have truly become a force to be reckoned with in the startup industry. 
Top Angel Investor Groups
Alliance of Angels stands out as the largest and most active angel group in the Pacific Northwest and their example is sure to be followed across the world. Since 1997, Alliance of Angels has invested more than $100M into over 200 companies and celebrated 40+ exits that have generated over a billion dollars of returns. Now, the organization is providing an even more impactful example with their Innovation Fund, a member-led fund that allows investors to spread their investments across a diverse range of early-stage companies. Capitalizing on the experience and expertise of its 140+ members, Alliance of Angels proves there is strength in numbers, making them a top example for angel groups everywhere.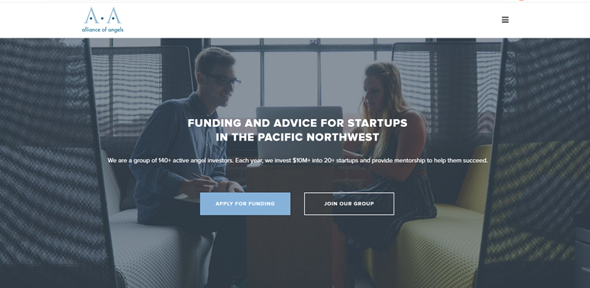 Access Silicon Valley is an incredible platform connecting entrepreneurs, both experienced and new, to everything the digital world has to offer. It acts as a virtual bridge that can facilitate real-time interactions between startups and VCs who may not have had the opportunity for face-to-face contact before. Through this access to relevant content and knowledgeable individuals, startup entrepreneurs are able to gain valuable insight into their future endeavours. They also get access to angels, VCs, and other great entrepreneurs from all around the world – something that would otherwise be out of reach for most people. Access Silicon Valley is revolutionizing the way entrepreneurs interact with one another!
Founded in 2012 in New York City, 37 Angels is an angel investor group with the mission of providing investment education at the seed stage. In its 8 + year run, 37 Angels has invested capital ranging from $50,000 to $150,000 in various startups every year. Their pitching forums enable eight potential startups to pitch their ideas every two months. A wide variety of start-ups have received funding from this investor group – from sanitary brands and clothing to language services. The enterprise stands out for its all-female staff of more than 50 members, who provide invaluable assistance and guidance towards the success of the various start-ups that it invests in.
The ARC angel fund is an innovative and successful angel investor group that stepped into New York's business scene in 2010. Having an impressive portfolio and a high success rate, the fund seeks to invest in early-stage companies that show potential for growth. With investment ranging from 50,000 to 250,000, the fund has been able to bring numerous startups and small businesses out of obscurity and into the limelight.
It's no surprise that the Angel Investment Network Blog has become the go-to platform for aspiring entrepreneurs. With over 300,000 members, it is by far the largest network of angel investors available. What this means is that nearly all startup ideas have access to potential funding through this massive group of individual investors.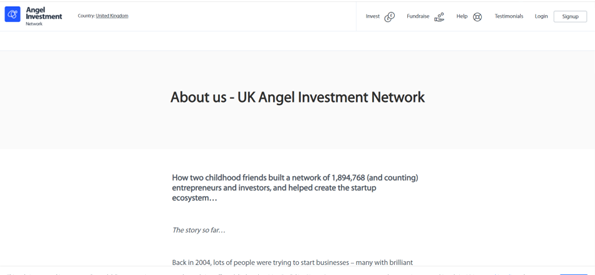 Atlanta Tech Angels is a leader in fueling innovation from within the Southeast. This investor group focuses on funding startups, but with a unique approach–strengthening female and minority founders too. The group goes out of their way to ensure minority entrepreneurship has a place at the table, reserving one out of every three pitching spots for founders from such backgrounds. In fact, 48% of Atlanta Tech Angels' investments are made in minority-owned startups. Supporting and encouraging diverse ownership, especially of new businesses, is an admirable pursuit that this great investor group sets as its goal.
Founded in 1994, Menlo Park, California, Band of Angels is the example of a successful angel investment group. Established as the first high-tech angel investment organization in the US, they have dedicated a great deal of resources into providing startups and entrepreneurs with much needed funding. With over 165 current and former executives lending their expertise, money and networks to an estimated $200 million invested since its inception. Their commitment to supporting new business ventures hasn't gone unnoticed; averaging at least 20 investments a year, Band of Angels has made tremendous strides in helping launch budding dreams straight into the boardroom.
Formed in 2003, BlueTree Allied Angels has become the leading angel network in Western Pennsylvania. As a members-only group of accredited investors, they focus on funding promising start-up companies across multiple industries throughout the region. Through their diligence, BlueTree Allied Angels have invested in 58 companies thus far and have seen numerous successes such as 4moms, ApartmentJet and ALung Technologies to name a few. The organization works closely with other venture firms and co-invests with influential colleagues ensuring that the best companies receive ample support for ongoing success. It's clear that BlueTree Allied Angels has become essential for start-ups hoping to make waves in Western Pennsylvania.
The Black Angels Miami are offering an incredible opportunity for members and investors to invest in and join technology startups from across the U.S. Through this platform, members will gain access to some of the most rewarding investment opportunities that may be found across our nation and enable a connection with unique founders leading them. The team is looking for those ambitious entrepreneurs with an eye for high-growth potential and a passion for innovative ideas–a rare combination that Black Angels Miami seeks to nurture. This is your chance to be part of something truly extraordinary; through Black Angels Miami, the world of technology startups can open its doors to you.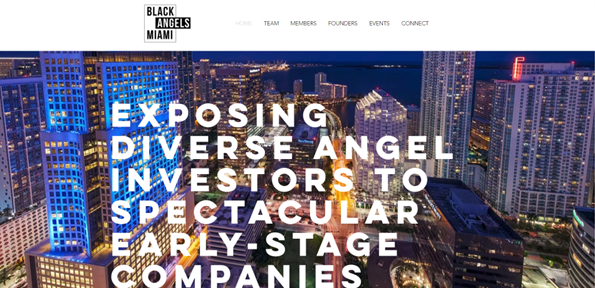 Empire Angels is a NYC-based angel investor organization that was established in 2012 with the aim of helping millennials realize their dreams of becoming successful investors. An investment from Empire Angels can range anywhere from $50,000 to $350,000, and they hold monthly pitch sessions to help entrepreneurs gain the much-needed exposure and recognition for their startups.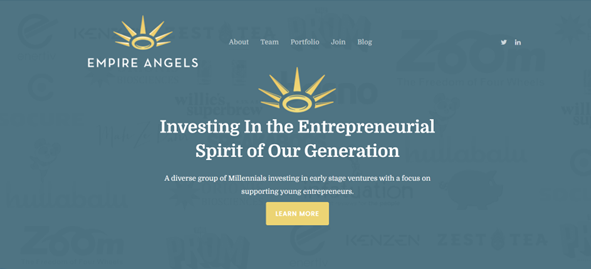 Florida Funders strives to transform Florida into a startup haven by connecting investors with promising early-stage technology companies. Through their hybrid venture capital and angel investor network, these investors can access deals that would have previously been impossible. Offering extensive support, from finding suitable investments to helping build the entrepreneurial ecosystem in the state, Florida Funders is removing as many barriers as possible for startups to receive vital funding. By facilitating the connection between entrepreneurs and investors, Florida Funders is creating an environment where innovation is encouraged and new ideas can thrive. This could be the start of a revolution for tech startups in Florida – one that will propel them forward faster than ever before.
Golden Seeds is an example of a venture capital organization that focuses on investing in female-led startup companies. Founded in 2005, the organization connects women entrepreneurs with professional and financial resources to support their business growth and success. Golden Seeds offers funding and provides access to a community of mentors, advisors, and founders who serve as valuable resources to its portfolio companies. The organization is dedicated to providing strategic guidance and mentoring services to help female entrepreneurs create their own successful businesses and extend their reach into new markets. With over 340 members, the organization has been investing in over 225 companies with a total investment of $165 million. Located in New York City, Golden Seeds has expanded its reach to many cities throughout the U.S., including New Jersey, Boston, Arizona, Atlanta, Dallas, Houston and Silicon Valley. By joining Golden Seeds, women have the resources they need to launch innovative products, strengthen customer bases, build executive teams, and scale operations.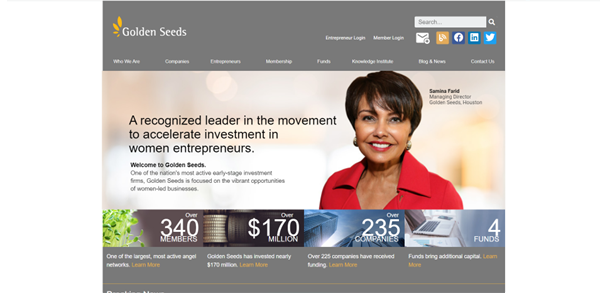 Gold Coast Angel Investors based out of Miami, FL, is dedicated to helping companies with pre-revenue up to several million dollars in revenue and they focus particularly on companies with between $1,000,000 and $2,000,000 in revenue and ambitious growth plans. With Gold Coast Angel Investors, you'll gain access to rich investment experience while also having the chance to collaborate with other professionals who are also passionate about this kind of work. Investing with Gold Coast Angel Investors is a great way to give you an edge in the world of early-stage companies.
Hyde Park Angels is an example of a well-established angel investor network in Chicago. The organization strives to provide early-stage growth companies with the resources they need to develop and build success. Hyde Park Angels has a strong portfolio of investments, having contributed to the success of over 140 startups from its inception in 2007 to today. Experienced entrepreneurs make up its membership, coming together to provide mentorship, advice, and capital for those who have innovative products or services. They host multiple events where industry professionals and potential investors are invited to learn about business trends and form relationships with each other. Through these activities, Hyde Park angels have become an important advisor for many high potential startups looking for resources to scale their operations.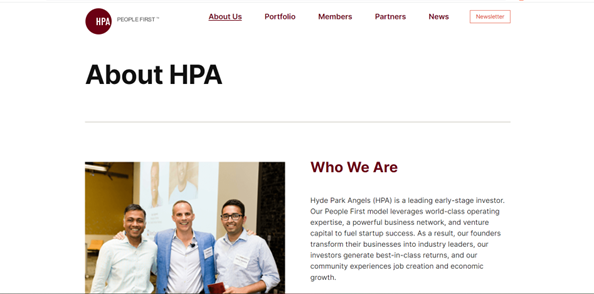 HBS Angels is a New York City-based investment angel that started in 2007 and has grown to become one of the largest Angels investment networks in NYC. They have been dedicated to researching, educating, and investing in seed-stage startups. Their impactful work, thus far, has amounted to investments totaling over $70 million for more than 300 companies just starting out. HBS Angels is dedicated to helping these new businesses grow and succeed. They are actively using their extensive network of business leaders and knowledgeable investors to further the growth of early-stage startups in New York City and beyond.
This NYC angel investor has been a staunch supporter of startups since 2004, investing 35 million dollars in around 45 companies within the Mid-Atlantic Region. Founded with the collaboration of the Economic Development Authority and Technology Council of New Jersey in 2002, its aim is to empower emerging businesses to foster innovation and growth. With its investments typically ranging from 200,000 to 1 million dollars, this accomplished angel investor primarily specializes in software and technology companies. Its attentive approach offers remarkable support for blossoming start-ups on their journey to success.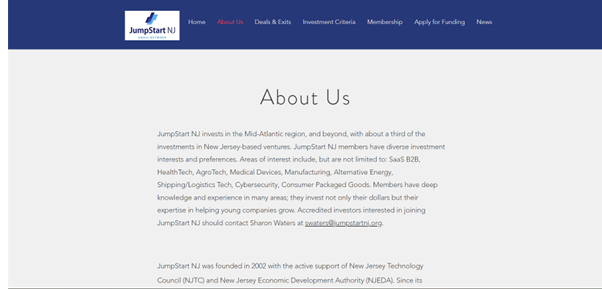 Founded in 2005, Life Science Angels has become an invaluable source of investment for life science and healthcare startups. This non-profit organization is made up of senior executives and founders of biotechnology and healthcare companies who have combined to invest over $60 million in more than 100 example startups. With between 130 and 150 accredited angel investors, it is no wonder the organizations' track record in helping startups take their businesses to the next level has been so successful. Life Sciences Angels are a great example of how angel investors can help innovative startups in health and life sciences reach the next level. These groups bring together experienced professionals from the healthcare industry, venture capital sector, and angel investment with deeper pockets and expertise than traditional angel investors. Through these connections, Life Sciences Angels provide not just money but advice and connections as well, which can be invaluable for businesses seeking to take their innovation to the public and save lives. By providing a strong support system for companies in such an important field, these individuals are helping advance medicine and potentially improve millions of lives around the world.
Founded in 2001 Launchpad Venture Group has been a major investor in revolutionizing businesses for nearly two decades. With over $100 million invested in 125 different startups, the group has established itself as a leader amongst venture capitalists. The range of companies they have invested in is noteworthy, from innovative scientific research to groundbreaking technological advancements being spearheaded by local Boston-area startups.
The Long Island Angel Network, founded in New York, has become a go-to source for startups seeking investment and opportunity. Focusing mainly on companies located in Long Island and NYC, this angel investor network creates a forum for businesses to interact with potential investors. With an investment range of $100,000 to 750,000 million dollars, the Long Island Angel Network offers startup entrepreneurs not only funding but also access to valuable resources and information to further the success of their venture.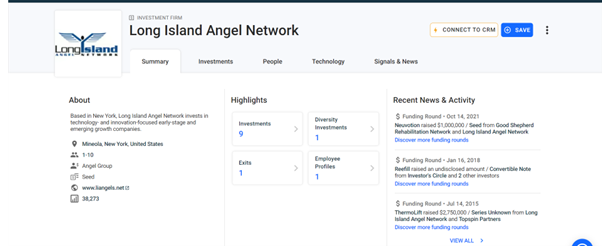 The mission of the Miami Angels is to invest in entrepreneurs by providing capital, resources, and support when they need it most. Our diverse membership base has enabled us to focus on Seed Stage startups that use software-as-a-service (SaaS) models. We only invest in post-launch US firms so that we can offer the level of input needed for their success. This experienced team of over 150 angel investors offers more than just financial backing
New York Angels is an example of a venture capital and startup accelerator platform operating out of New York City. It offers entrepreneurs insight and advice from a broad base of successful business professionals, as well as access to capital. Professionally accredited as investors, members of New York Angels examine early-stage companies that have the potential to become high-growth businesses. 99 remarkable individuals with a diverse range of expertise from CEOs to entrepreneur's VCs and business leaders come together in support of ambitious startups. Investing between $250k and 750k each, these angels provide the capital lifeline needed for companies to launch their dreams into reality! They provide seed funding, mentorship and guidance to ambitious founders, helping them lay down the foundation for the eventual success of their business ideas.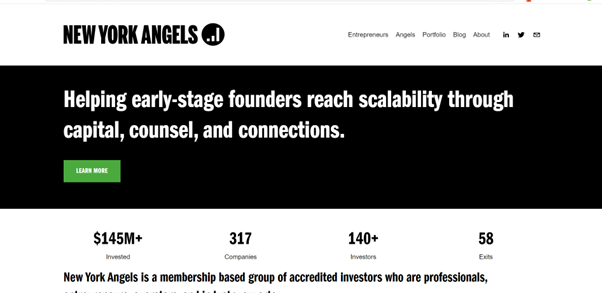 The North Coast Angel Fund, based in Cleveland, Ohio, is an example of the incredible potential of investment groups. The 180 angel investors involved have found success with their focus on midwest-based startups, having invested over $60 million to date. Not only have they pushed businesses forward with their seed-stage fund, but also encouraged growth with their acceleration fund program. This accomplishment is a testament to the power of collaborations like North Coast Angel Fund.
New World Angels has been an immense help to early-stage companies in Florida. Since 2014, the organization has provided well over $20 million to various businesses, aiding in the successful launching of several high-growth companies throughout the state. 
Pasadena Angels is a unique example of an angel investor group. Operating out of Altadena, California, this group provides capital to early-stage entrepreneurial ventures. The Pasadena Angels have become a major player in the Southern California startup scene by investing over $75 million in early-stage capital into 195 companies. This range of investments spans from just $100K to a sizable $1.5M in early-stage and seed funding, illustrating their reliability and commitment to boost the region's most promising ideas. Not content with investing on their own, the Pasadena Angels also partner with a network of venture capital firms and angel investment groups to help companies raise even more money (up to $1M) through syndication and further support their endeavours.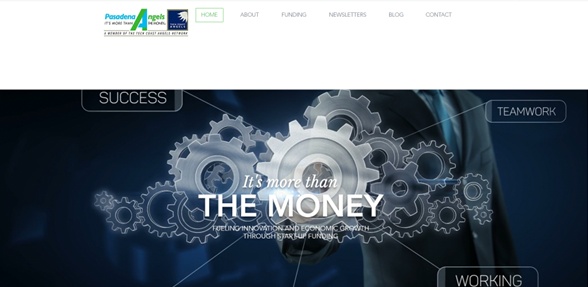 Park City Angels, an angel investor group from Park City, Utah, has had a significant impact on startups since 2008. The team of over forty accredited investors funds many projects based in Utah or close by, but occasionally consider investments out-of-state as well. With each of their contributions, Park City Angels has added up to over $75 million in investments across more than 1200 examples. By supporting local entrepreneurs and emerging companies, the team is having a positive and memorable impact for those seeking to make their ideas turn into realities.
Queen City Angels has been providing startup founders with the necessary funds and resources to pursue their dreams for over 21 years. By investing more than $100 million over 237 investments, it is easy to see the impact this venture capital organization has had. As if that was not enough, Queen City Angels also owns the QCA Education Foundation – a non-profit designed to mentor and coach aspiring entrepreneurs within their network.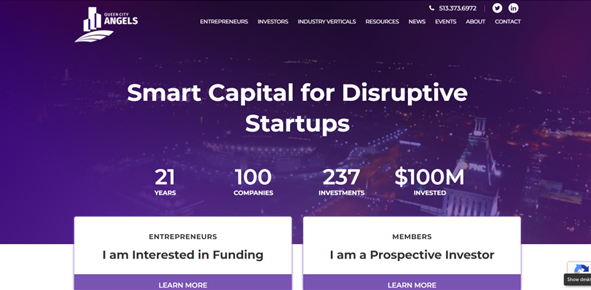 Founded in 1999, Robin Hood Ventures is a Philadelphia-based angel investment firm dedicated to the success of high-growth, early-stage startups. As a way to bolster the chances of success for these companies, Robin Hood Ventures provides funding ranging from $250,000 to $1 million per venture. As well as investing its own resources, it also partners with venture capitalists, institutions and other angel investors in order to spread its capital base even further.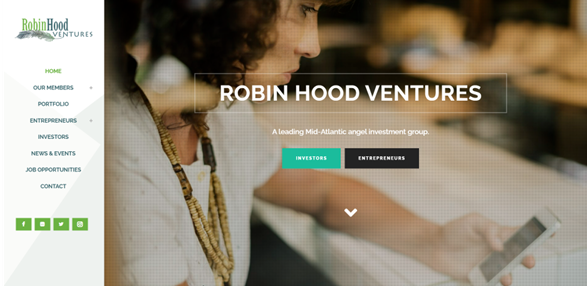 Since 2011, the Soundboard angel fund has been instrumental in launching many start-up companies. With nearly $7.5 million invested in a total of 48 different companies, it's fair to say this angel fund has had a positive impact on NYC businesses and their respective industries.
Sand Hill Angels is an example of a Silicon Valley angel investment group that has had a profound impact on early stages startups. Composed of over 140 angel investors with backgrounds in tech entrepreneurship, the group seeks out startups with products in the alpha/beta stage that are seeking to solve well-defined problems. Sand Hill Angels is known for providing access to experienced technology entrepreneurs, providing seed money for start-up investments, and helping entrepreneurs develop successful long-term strategies. While not every startup succeeds, this Silicon Valley group has made its mark by investing in groundbreaking ventures and helping them grow into larger businesses.
Founded in 1997, Tech Coast Angels (TCA) has become one of the most well-known and successful angel investment groups specializing in tech startups. Located in Southern California, TCA has a wide reach, with more than 425 members and three separate funds for seed capital, bridge investments, and early A-rounds. These resources give startups access to both capital and amazing mentorship that is essential in helping develop successful businesses from the ground up. TCA separates itself from other investor groups by being deeply engaged with the startup ecosystem and providing example deals as a model for entrepreneurs to follow. From the example deals they provide through their website to their experienced angel investors supporting startups going through difficult times, TCA continues to be an innovative force dedicated to helping bring ideas to fruition.
Tri-State Venture is a remarkable Angel Investor based in NYC who provides crucial startup investment opportunities for new businesses. Founded way back in 1999, this venture has been instrumental in helping many budding entrepreneurs turn their visions into realities. Transformations like these can only be made possible with the right amount of capital and Tri-State Venture's investments span from $50,000 all the way up to a whopping $5,000,000. This angel investor is also focused on businesses worth less than $1.5K too, so no venture is too small for their potential investments.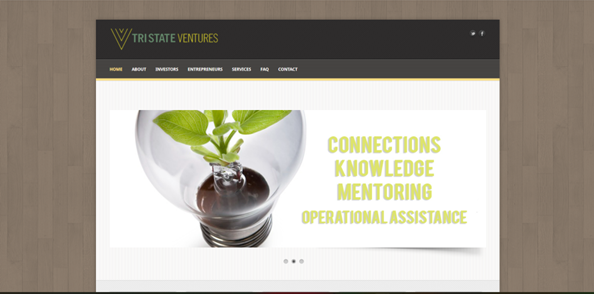 Since 2014, VentureSouth has been consistently named one of the top 10 angel investment groups in the United States. This impressive status is due to its network of more than 450 active investors and investments totaling over $75 million in more than 100 companies. By providing capital and expertise to Southeastern startups, VentureSouth has taken on the role of a dedicated early-stage venture firm that has proven itself as an industry leader in investments, helping a multitude of innovative companies achieve success.
Conclusion 
If you have a great startup idea and are looking to get the right financial backing, then finding one of the top angel investors out there can make all the difference. They will not only be able to provide you with access to capital, but also offer invaluable advice and contacts that can help your business grow and scale. Setting up a proper communication strategy is essential for a successful collaboration between both parties. All in all, by utilizing the help of an experienced angel investor in order for your venture to reach its full potential will enable sustained progress over time.
Check out some helpful articles: How to Join an Angel Investor Group, Top 25 Angel Investing Tools/Platforms, How to Use Angel Investor Funding for Your Business, What Is An Angel Investor?(Advantages And Disadvantages), How Much Do You Need To Begin Angel Investing , Angel Investors vs. Venture Capitalist: 7 Main Differences, Difference between Angel investor and Seed funding, How to find the right angel investors,5 Steps to Raise Capital from Angel Investors, How Does Angel Investing Work? The Ultimate Guide, 5 Worst Mistakes Entrepreneurs Make When Pitching Angel Investors, Do Angel Investors Invest In Nonprofits?
Our blogs: Best Resources for non-USA founders to setup US based startup, Account Based Everything, Building Strong Startup Ecosystem, Top 5 Requests For Virtual Assistance Services, Small Business Owners Embrace Digital Transformations